21 August 2019
Country: Global
by: Anna Lekas Miller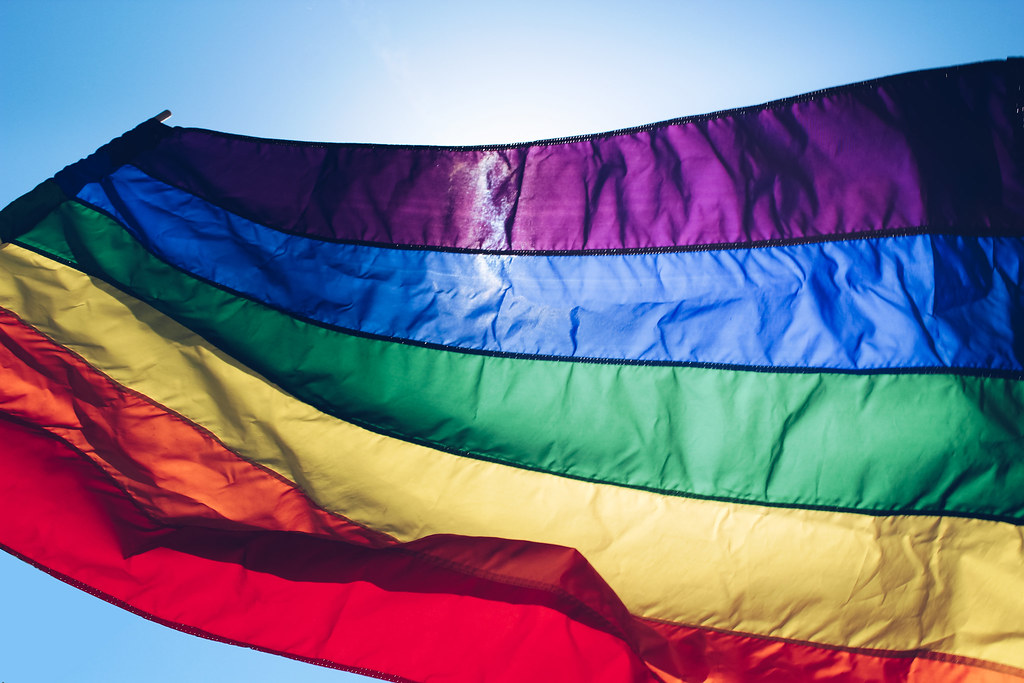 How do you know you're in love?
"You're willing to try whatever diet is the new trend," says Chrissy Chambers, one part of Bria and Chrissy, the YouTube dynamic duo, and lesbian couple that publish YouTube videos about everything from healthy relationships, comedy sketches, and LGBTQ+ rights.
Next, the video cuts to Chrissy counting her rock collection. You know you're in love when you support each and every one of your partner's crazy hobbies, Bria chimes in, as Chrissy balances rocks on their cat.
However, Chrissy and Bria found that shortly after uploading the video, YouTube had unlisted it due to "inappropriate" content. Chrissy suspects it is because it is tagged "LGBT"—a trend that has pushed Bria, Chrissy and six other LGBTQ+ YouTubers to file a lawsuit against YouTube, alleging discrimination.
"I'm sick of the discrimination that we are getting in the LGBTQ community," said Chase Ross, a trans* activist, with a YouTube channel explaining different aspects of trans* identity. "YouTube is supposed to be a safe space for us—I don't feel safe at all."
For LGBTQ+ YouTubers, flagging a video or otherwise demonetizing it can have disastrous consequences. If it is marked as inappropriate, it cuts off a huge teenage fanbase, and can only be seen by viewers who are logged in, and registered as being over the age of eighteen. If it is demonetized, it can severely impact the income that YouTube creators rely on to keep making content, and force them to diversify their income if they want to stay online. Before the restrictions, Bria and Chrissy used to exclusively make their income from their YouTube channel—now they are clearing only a few hundred dollars a month.
But it isn't just their bottom line that Bria and Chrissy are worried about—it's reaching the viewers who need them the most.
"Age restriction means that we can't reach the young women who look up to us, who need us as a sense of community and support," Chrissy told the Guardian.
"We're not able to be there and give that to them. When I think about YouTube shutting down our content, it gets me all fired up because they are literally having an impact on someone living another day."
For many young people, YouTubers like Bria and Chrissy have normalized LGBTQ+ relationships, and helped them navigate important moments like coming out to their parents, nurturing a healthy relationship and what it means to identify as transgender, or gender non-binary.
For some, being able to watch these videos is a matter of life and death. According to data from the Trevor Project, a US-based non-profit organization that focuses on suicide prevention among LGBTQ+ youth, young people who identify as gay, lesbian, bisexual or questioning are five times more likely to attempt suicide than their heterosexual peers, and three times more likely to think about it. For transgender teens, the numbers are even higher. If they come from a conservative community, or have parents who have openly disapproved of their sexual identity, LGBTQ+ youth become 8.4 times more likely to attempt suicide than their peers from a more tolerant background.
"I make queer media for kids, because I wish I had this when I was their age", said Lindsay Amer in a TED Talk about their YouTube programme "Queer Kid Stuff," which they describe as a web series of LGBTQ+ and social justice videos for all ages.
"I don't want them to struggle through what I did," they continue, elaborating on the alarming suicide statistics in the United States alone. Amer is one of the eight plaintiffs, who joined the lawsuit after their videos were demonetized.
"I didn't understand my identity because I didn't have any exposure to who I could be."
At its best, platforms like YouTube help fill the void of an overwhelming lack of media representation of LGBTQ+ people, creating a space for creators to share coming out stories, offer advice and create a genuine community that allows their followers to understand their sexuality and see that they are not alone. For young people growing up in an intolerant environment—whether that is their family, community or country—it is an alternative reality, where another, more tolerant world is possible.
In the past, YouTube has been praised for giving a platform to marginalized voices, particularly LGBTQ+ creators and creators of color. However, in recent months, the company has shown that it might not be the ally that it pretends to be. In multiple cases, their algorithm has placed anti-LGBT advertisements on LGBTQ+ content, alienating viewers and insulting creators. When Vox Contributor Carlos Mazza complained about targeted racist and homophobic hate speech, the company barely responded.
Now, YouTube has the chance to fix their algorithm, and stop de-platforming the LGBTQ+ creators that makes it such a unique online community. Whether or not it chooses to do this has enormous implications for diversity in the media, and the community who needs it the most.
To read more about YouTube's discriminatory policies, click here. To check out our coverage of transphobia in the media, click here.
Picture Credit: https://quotecatalog.com/quotes/inspirational/