1 October 2019
Country: India
By: Mehboob Jeelani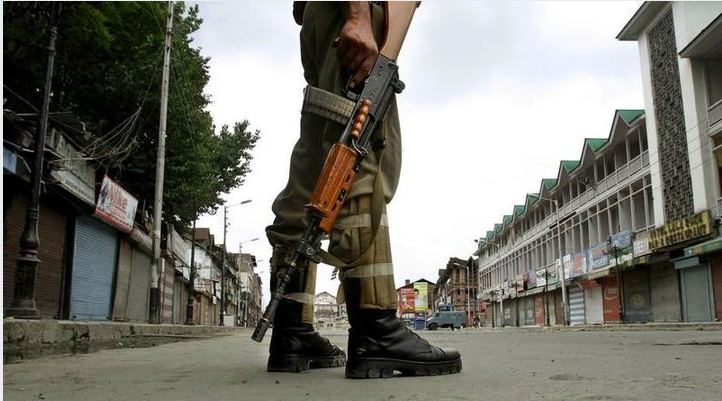 On the evening of August 4, my cousin called me from Kashmir after several months. She asked me about my health, my job and if I was visiting my parents in Kashmir. Before we said goodbye to each other, she said: "I just wanted to call because I don't know when we'll be able to talk again. Rumour has it that phones and internet services will be shut down soon.
The phone call left me perturbed. I have been living in Istanbul since 2016 and I have navigated the indignation of frequent Internet and phone outages imposed by the Indian government in Kashmir. But this time it felt different. And from my cousin's voice, I could sense the feeling of helplessness, something I had never felt before.
A day earlier, India had put its air force and the army on "high operational alert", supplying 15,000 men to strengthen its military force of 700,000 soldiers in Kashmir, a disputed region nestled between India and Pakistan in the Himalayan mountains. It sent emergency alerts to Hindu pilgrims, asking them to terminate their spiritual journey in the far-off Kashmiri mountains and return to their home states, citing a 'terror' threat to them.
Kashmir quickly turned into a rumour mill. The talk of war between India and Pakistan was heard in almost every corner store and barber shop. Some said India was planning to kill a popular separatist leader Yasin Malik, who's been under Indian detention since April this year. Others said India would abrogate Article 35A of its constitution, which gave exclusive property rights to Kashmiris in Kashmir and barred outsiders from purchasing land. The law safeguarded both the fragile environment as well as demography of the only majority Muslim state of majority Hindu India, a state that has also been the centre of dispute between India and Pakistan since the end of British Colonialism in 1947.
The unprecedented military build-up coupled with rationing notices and vague assurances of New Delhi's pointman in Kashmir, Governor Satya Pal Malik, triggered a region-wide panic. Kashmiris rushed to pharmacies, gas stations, ATMs and grocery shops in hordes, trying to withdraw as much cash and stock up on as many supplies as possible.
On August 5, the unravelling began. The Indian parliament passed a contentious bill, axing Article 370 and 35A and breaking the state of Jammu and Kashmir into two federal territories: Kashmir-Jammu and Ladakh, while imposing a strict military curfew in the region, cutting off Internet, mobile and landline phone services. The local Kashmiri leadership was either detained or paralysed under "house arrest."
In the following weeks, tens of thousands of young people were detained and 13,000 teenagers, as well as children as young as 11 years of age, were picked up from their homes in brutal night raids and sent to different prisons inside and outside of Kashmir.
The communications blackout accompanied by a military curfew reduced the land of eight million people to a muted hinterland. In the initial days of the lockdown, the only information that came out of Kashmir came from a handful of Indian journalists who unabashedly celebrated and backed the Indian state's unilateral move. They delighted in the ending of the 70-year-old constitutional arrangement between a former princely state of Jammu and Kashmir and India, giving New Delhi both a moral and legal authority to control its borders, enable and oversee its communication as well as foreign affairs.
With the steady rise of Hindu nationalism in India, the removal of Kashmir's nominal autonomy was always on the agenda of the ruling Bharatiya Janata Party (BJP). It is only because the far-right party lacked an absolute majority in the parliament prior to May 2019 elections that its Kashmir rhetoric couldn't translate into reality earlier.
The Hindu nationalistic call for establishing uniformity and placing Kashmir at the centre of that "patriotic" agenda pushed the BJP government to end Kashmir's autonomy. To justify this unilateral move to Indian public and the world, the country's media, except for a few fringe organisations, played a key role in portraying an incomplete or rather twisted picture of a region where tens of thousands of armed forces were deployed to curb any possible dissent.
Several Indian journalists who flew into Kashmir during the siege were privileged enough to share videos on Twitter, showing a few private cars and scooters passing through the main commercial centre of Srinagar, the summer capital of the state, presenting it as the proof of 'normalcy'. One journalist even claimed: "Many Kashmiris are happy that 370 is gone."
The restrictions were so harsh that local Kashmiri journalists couldn't navigate the region in the initial days. They reported that they were harassed--in some cases beaten-- at police and army checkpoints.
Even on the day of the Eid festival, Kashmiri Muslims couldn't follow their essential ritual and pray in large gatherings. But to push a partisan narrative of normalcy, the Indian authorities offered chopper rides to several Indian journalists. From above, they recorded videos of Srinagar city and later uploaded them on Twitter. Srinagar looked like a lifeless shoebox city with empty roads, a still lake, clusters of rooftops and some greenery. One magazine reporter, who shared another video recorded from a hilltop, wrote: "There has been calm all over. But news is hard to come by. So far I can confirm only one clash/demonstration in Srinagar."
The human cost of the curfew eventually found its way out. One of the first eyewitness accounts came from a woman who took a flight out of Kashmir to Toronto. She wrote a long Twitter thread describing the dead calm shrouding the state and Kashmiris "begging to get past" the police and paramilitary check posts. She wrote of a man holding an X-ray of his brother, whose surgery was due, pleading with the security forces to let them through the barricades. A mother imploring the uniformed men to let her "refill her child's medicine."
More and more personal accounts poured out. International media organisations sent in their local stringers and reporters, as foriegn correspondents couldn't access the region citing denial of permission from the government of India, and came out with reports of massive violations of human rights, which included excessive detentions, the torture of young people and five civilian killings within a span of one month, one seperate custodial death and a suicide committed by a teenage boy a few hours after an alleged beating by the Indian army.
But most Indian TV channels and newspapers either downplayed the stories of police brutality in Kashmir or simply negated them. One Indian reporter recently went to Anchar, an uptown area of Srinagar, where intense clashes between protesters and the police were reported by the BBC in the second week of August. The reporter dismissed several reports of injuries caused by shotgun-pellets fired by the Indian security forces on protesters. Calling the survivors of the violence "mysterious pellet-gun victims", he ended his dispatch with a rather condescending take, describing the people of Anchar as "intensely likeable rebels, clearly prone to severe exaggeration".
The competing reportage has obscured the deteriorating human rights situation in Kashmir. It has allowed the Indian state to deny its people of the knowledge of human impact of the curfew, which was premised on ending Kashmir's autonomy and taking the region on the path of development.
The narrative of normalcy and the government's 'righteous' intent has left many well-meaning Indians completely myopic toward Kashmir. The common perception in the country is that any form of dissent against India's policies in Kashmir should translate into curbs and checkpoints and if Kashmiris give in the place should end up with bridges and parks and cinemas.
But the word development sounds like a profanity to a regular Kashmiri surviving the siege. I spoke to a Kashmiri journalist last week. His Internet phone worked because he was visiting Delhi. He told me he doesn't want to talk about Kashmir since it's too "depressing."
"Tell me some jokes. I want to laugh. It's been a long time," he said.
After engaging in random banter about our good old days, our life goals, former love affairs and heartbreaks, the conversation led us to Kashmir. He couldn't resist telling me some of his experiences during the siege.
"Even a mad man was arrested in my neighbourhood," he told me, insisting I should withhold his name as he may face reprisals from the government if he's identified. "The police sent a message to his family that he'll be released if his brother turns up at the police station. He was in lockup until I left for Delhi. Don't know if he's out or not."
He said several local journalists were summoned by India's intelligence agencies and questioned about which media organisations they worked for and who were the editors they worked with. Many of them, he said, were repeatedly summoned to Srinagar's local intelligence office and made to sit there from mornings to late evenings. "It was a fear tactic used to scare journalists. It worked. Many stringers for local and foriegn publications have either stopped reporting or they write stories without their bylines."
The Internet ban initially delayed news reporting from Kashmir. Yet some local reporters displayed remarkable shoe-leather reporting skills, walked long distances on foot to interview people. They saved their stories on thumb drives and smuggle them to Delhi by air. Although the Indian authorities later granted internet access to a few desktop computers at the local press club in Srinagar, many Kashmiri journalists said it barely served its purpose since the place was overcrowded with reporters and photographers, and quite possibly monitored by the government.
"As a result, many [Kashmiri] journalists ended up self-censoring. They only stick to what the government says," the Kashmiri journalist who visited Delhi told me.
In the absence of free journalism, rumours and disinformation have caused despondency in Kashmir. "The most rational people I have known have become irrational," the journalist said. "Everyone believes the Angel Gabriel will come down from the heavens and save them."
While Kashmir continues to be under lockdown for more than 53 days, two stark media narratives have emerged from the region. While most Indian news TV channels and newspapers disregard the reports of human rights abuse, frame the Kashmir crisis within the binaries of "Pakistan-sponsored terror" and so-called "global Jihad", most foriegn media organisations tend to focus on the human consequences of the conflict.
The conflicting coverage has created two types of echo chambers — one, in which the government officials and social media influencers of India snub foreign media reporting of Kashmir as "fake news", accusing people critical of India's handling of Kashmir as "anti-nationals" or Pakistan's "stooges"; the other, in which human rights activists, global leaders, including US Minnesota Representative Ilhan Omar and Britain's Labour Party leader Jeremy Corbyn, condemn India's troubling role in Kashmir, calling for the final resolution of the Kashmir conflict through dialogue.
Amidst this chorus, Kashmir remains silent, cut off from the world and from all the conversations about its present and future.
Photocredit: Wikimedia Creative Commons