Date: 7 November 2019
Location: London, UK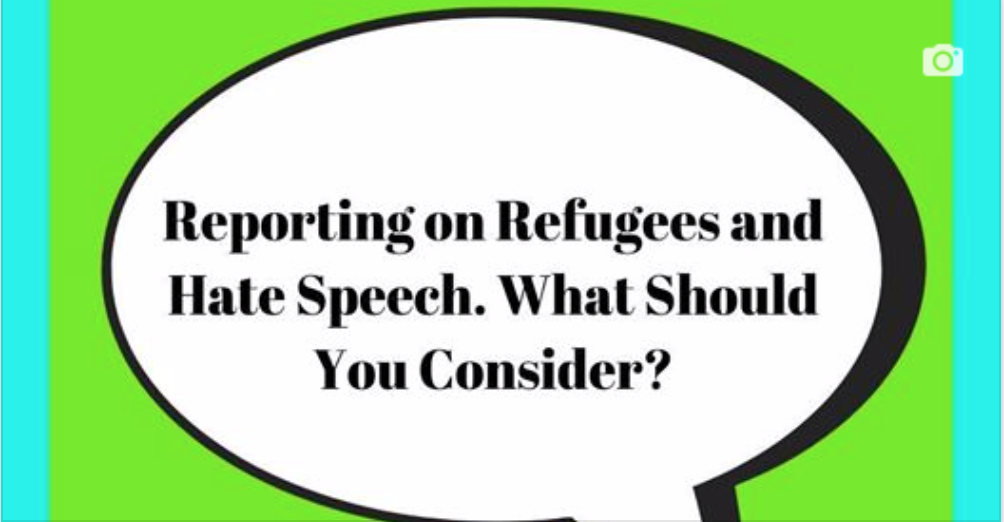 "I grew up under the war, I'm 29 years old and we're talking about war." These are the words of Kurdish journalist Zozan Yasar, shared at a live recording session of City, University of London's The Knowhow Podcast. The event was part of a a special symposium held by ESRC Festival of Social Science which looked to tackle the topic of reporting refugees and hate speech and questions. Specifically: where are the refugees' voices in the coverage?
Hosting the podcast were Dr Lindsey Blumell and Dr Glenda Cooper. Abdulwahab Tahhan was a guest alongside Zozan. Abdul is a refugee from Aleppo and a visiting lecturer at the London College of Communication. During the live recording, Zozan and Abdul discussed the importance of voice; specifically, the need for more regular and authentic refugee voices in the media. Abdul stressed the need to talk to locals when reporting on a refugee story: "When you get someone from the country, you get an authentic voice and the full picture." He recounts a piece he wrote on Syria; he ended up talking to locals in the country via Facebook and Twitter, gaining a true local perspective on the issues at hand without having to go to Syria. He feels this is something that is often lacking in reporting, especially in the UK. The danger of a single story was also something discussed during the podcast recording. Oftentimes we see one of two stereotypes around refugees in reporting; either refugees who are exceedingly successful, or refugees who turn to criminal activity. There need to be more "normal refugee stories" told, Adbul explains. This is one of the main reasons he works with The Refugee Journalism Project, which aims to support refugees and exiled journalists to re-start their careers in the UK. It is through projects like these that refugees are able to gain a more prominent, and much needed, voice in the media.
Following the live podcast recording was a panel featuring journalists and media experts organised as part of 'Silence Hate', an EU-funded project led by COSPE and a coalition of civil society organisations, including Media Diversity Institute (MDI). On the panel, chaired by Dr Zahera Harb from City University of London, was Laurence Lee (Al Jazeera English), Tom Parry (Daily Mirror), Caroline Bannock (the Guardian), Dasha Ilic (Media Diversity institute), and Dr Glenda Cooper (City, University of London). The panelists shared their experience of covering refugee and migrant stories, exploring what improvements need to be made.
"It's about the depth of storytelling," Caroline Bannock shares. "Soundbites in a story from a refugee is not enough. We need as much depth as we can. We also need to tell the 'ordinary' refugee story, otherwise you start the process of othering." This was one of the key points of the evening: refugees, of all backgrounds, need more of a voice in the media.
Some of the panelists shared that while they want to include more refugee voices in their reporting, this is not always a possibility. Oftentimes you only have a very limited amount of words to tell a story, or your editor may end of cutting out the voices you sought to include. There are also practical difficulties when it comes to getting in touch with refugees in the UK, as they have often been housed in remote communities. "We need to invite these voices in," explains Caroline Bannock. "It is hard to reach out [to refugees] in the UK, so we have to try inviting them in."
Besides the role of journalists and the media, audience responsibility was also discussed on the panel. "As an audience it is very easy to just blame journalists, but there is also audience responsibility. What are you watching and consuming?," asks Dr Glenda Cooper. In part, the audience steers what issues the media spend more time on, and how it is reported on. More refugee-led reporting is something which is vital in today's media landscape; however, "how much appetite is there for this?," Caroline Bannock rightly wonders.
The event explored important issues and while some positive examples of refugee-led reporting were shared, it was clear that there is still much work to be done in this area. It is through events like this that we can explore how to move forward and produce more ethical reporting on the topics of refugees and migrants. In Abdul's words: "there should not be a negative connotation with the word 'refugee,'" and the media plays a vital role in this.